INVERTER SINGLE SPLIT STANDARD (COOLING)
---
Brand:
Mitsubishi Heavy Industries
Capacity:
1.00 (0.23~1.30)
No.1 air conditioner from Japan
Durable quality timeless
Outstanding power savings
2 years warranty for all equipments
In March 2018, Mitsubishi Heavy Industries - outstanding air conditioner branding from Japan launched an entirely new inverter air conditioner, espeacially optimizing the energy saving feature with code YT. It is well-known that Mitsubishi Heavy YT series of machines are designed by Italian regulators in European style, bringing a luxurious and elegant appearance, suitable for high-end residential and housing projects.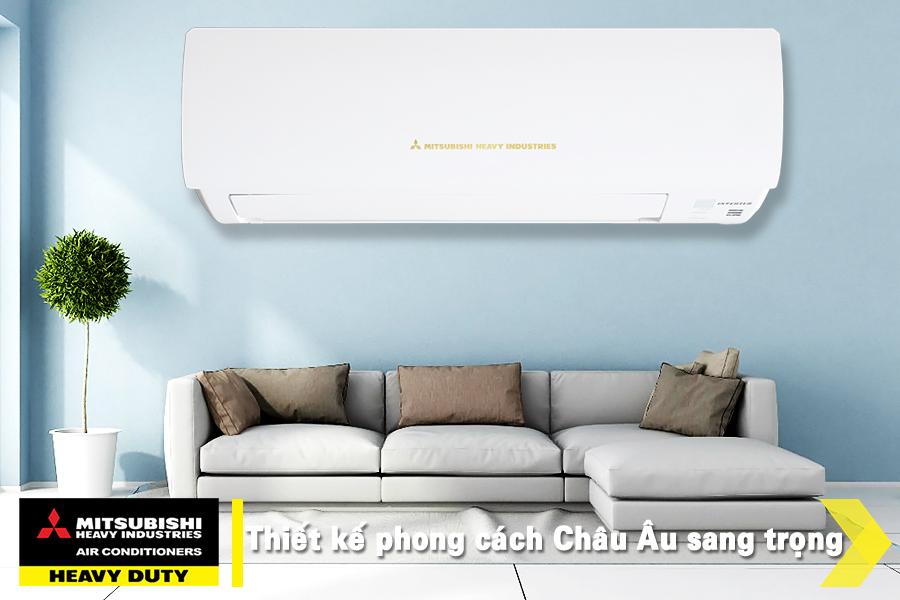 Another hot summer comes again, 2018 promises to be an extremely exciting year of air conditioner brands after a long period of gloomy market in 2017 due to weather change. One of the major air conditioners, Mitsubishi Heavy Industries (MHI), also began to participate in the race by launching an all-new inverter air conditioner with SRK-YT code with impressive energy saving capabilities. The actual test only consumes 2.0 Kw of power in 8 hours for use. Let's start to know about the outstanding functions of this new model.
Elegant European design:
Compared to other inverter models of MHI, Mitsubishi Heavy YT is focused and improved more in style. Stay faithful to the luxurious and elegant design according to the familiar European style standards of high-class inverter MHI air conditioner, Mitsubishi Heavy YT is also supplemented with easy-to-remove filter mesh section to clean and reduce dirt. In addition, the board is designed with a closed lid to prevent insects from entering and disassemble more flexibly.
Technology inherited from MHI Group:
Inheriting the most advanced technologies from Mitsubishi Heavy Industries, Mitsubishi Heavy YT air conditioning has many outstanding features, one of the best technologies is Jet Engine. Based on the principle of "Jet Flow" and the ability to compute the dynamic fluid (CFD) of jet engine technology in the manufacture of aircraft wings, it is helpful to achieve high energy efficiency in producing gas flow with large spreads evenly to every corner, but the energy consumption is at its lowest. In addition, the cool air flow with Jet Flow technology will also have a further and wider range, and the wind direction will be better controlled.
Save up to 40% electricity with DC PAM inverter technology: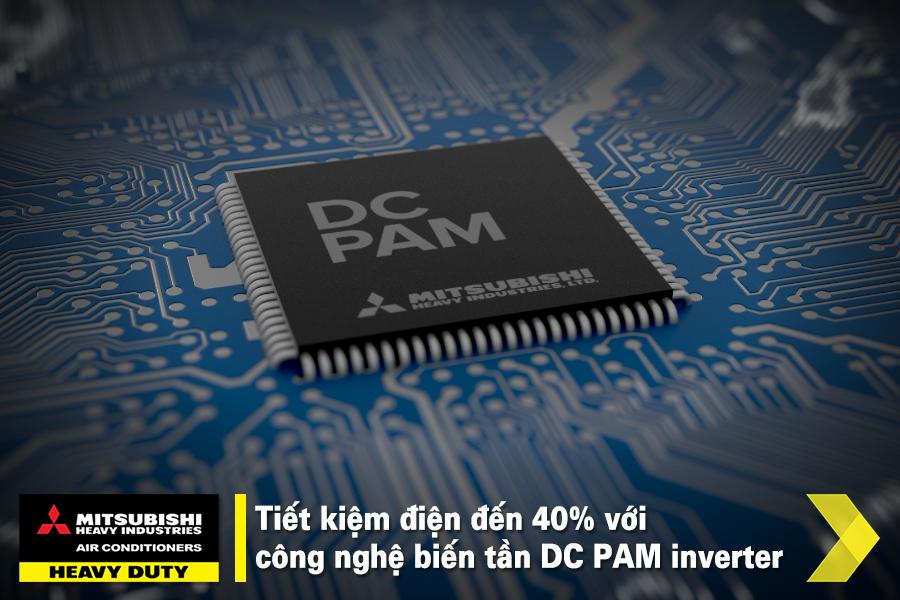 Mitsubishi Heavy YT air conditioner is applied DC PAM energy-saving technology that can control the voltage and number of the compressor output, reduce the maximum energy consumption, increase the cooling performance quickly and strongly. In addition, the setting temperature is reached, the inverter will adjust the capacity of the compressor motor operating at low speed in order to save energy while maintaining room temperature without too much difference compared to the setting temperature.
The actual test for 8-evening hours in use at a set temperature of 26o C and an environmental temperature of 30o C, Mitsubishi Heavy YT consumes only 2.0 Kw of power. This is a truly impressive number for an inverter air conditioner, and it is shown that Mitsubishi Heavy YT is capable of saving up to 40% electricity compared to conventional air conditioners.


Deodorizing and better health protection with Solar Filter filters:
With a focus on protecting and improving consumer health of Japanese air conditioner companies in general, Mitsubishi Heavy YT air conditioner is also supplemented with Solar Filter net function to prevent unpleasant odors such as cigarettes, socks, fishy smell, moist ... combined with deodorant filter to effectively kill odors, bringing fresh and cool air. Besides, this filter can be easily cleaned by removing and rinsing with water, then drying in the sun to clean bacteria without replacement.
To improve durability with self-diagnosis and self-cleaning capabilities

Referring to products with origin from Japan, consumers immediately think of outstanding durability, Mitsubishi Heavy YT air conditioner is designed to enhance durable goods by equipping with self-diagnosis capability to find common errors and display on the monitor screen, making it easy for users to identify, diagnose and repair quickly.
In addition, the self-cleaning mode will help the self-cleaning machine dry within 2 hours, limit mold and remove stubborn dirt, making it more smooth and lasting.
AIR FLOW FUNCTION
Auto Flap Mode
Depending on the operating mode, the unit will automatically set the position of the louvers at the optimal angle.
Jet Flow
Aircraft technology is used to component design the air flow system of the air conditioner.
Memory Louver
While the louver is swinging it can be stopped at any angle. On the next start-up the louver returns to the same positron that it was when the operation last stopped.
Up/Down Flap Swing
Flap moves up and down continuously. The Up/Down flap swing can be fixed at the preferred operation angle.
CLEAN OPERATION & FILTER FUNCTION
One action filter
For easy mainternance filter can be taken off and put on easily by just 1 slide action.
Photocatalytic Washable
Deodorizing Filter It keeps air fresh by deodorizing the molecules causing odor. The deodorizing ability can be easily restored simply by cleaning and exposing to the sunlight.
Self-Clean Operation
Self clean mode dries the indoor unit and filter, preventing the growth of mould. This runs for 2 hours after the unit has been switched off.
COMFORT & CONVENIENCE FUNCTION
24-hour On/Off Programmable Timer
By combining a start timer with a stop timer, you can register two timer operations a day. Once set, timers will faithfully start or stop the system at a specified time of the day repeatedly.
Automatic Operation
The air conditioner automatically selects from among heating, cooling and dry operations.
Comfort Start-up
In ON-TIMER operation, the unit automatically starts the operation a little earlier, so that the room can approach optimum temperature at ON time.
Compact Size
Thanks to this new fin configuration applied to "Heavy Duty Micro", the desired result is itscompact size.
Dry Operation
DRY The unit dehumidifies the room by intermittent cooling operation.
High Power Operation
The unit can operate continuously in "HI POWER" mode for 15 minutes. This mode is convenient to reach the desired temperature Auto quickly.
On/Off Timer
This timer allows the unit to be set to turn ON or OFF automatically once within a 24 hour period.
Sleep Timer
The room temperature is automatically controlled during the set sleep mode period, ensuring that room temperature will not get too cold or too hot.
ENERGY SAVING FUNCTION
Economy Mode
The unit will operate in energy saving mode in order to avoid excessive heating and cooling.
Fuzzy Auto Mode
Automatically, the unit determines its operating mode and temperature setting based on a fuzzy calculation, and adjusts the inverter frequency.
OTHER FUNCTIONS
24-hour ION
The air conditioner body has a tourmaline coated sheet. Negative ions (2,500 -3,000/cc) are generated when the air conditioner is not running, allowing you to experience them without incurring any electrical cost.
Auto Restart Function
Power blackout auto restart function is a function that records the operational status of the air-conditioner immediately prior to it being switched off by a power cut, and then automatically resumes operations at that point after the power has been restored.
Back-up Switch
If the remote control fails, the unit can be operated via an on/off switch on the indoor unit.
DC PAM Inverter
An inverter system has a number of advantages over a constant speed system. Its variable speed compressor outputscan ensure quick cooling or heating after start up and attains a set temperature more quickly. The air conditioner canslow down the compressor speed to save energy whilst keeping comfortable conditions. The compressor is DC motordriven so it provides higher performance.
Luminous Button
With wireless "Luminous" remote controls that even "glow in the dark", it is possible to operate all desired functions of the unit with the click of a button.
Self-Diagnostic Function
In the case that the air conditioner malfunctions, an internal microcomputer automatically runs a self-diagnosis. (Inspection and repair should be performed by authorized dealers.)
Item\Model

Indoor unit

SRK10YT-S5

SRK13YT-S5

SRK18YT-S5

Outdoor unit

SRC10YT-S5

SRC13YT-S5

SRC18YT-S5

Sound power level

1 Phase, 220/240V, 50Hz

Capacity

2.50 (1.0 ~ 2.8)

3.20 (1.0 ~ 3.5)

5.00 (0.9 ~ 5.1)

Input

kW

0.77 (0.25~1.00)

1.00 (0.23~1.30)

1.64 (0.22~1.96)

CSPF

kW

5.69

5.87

5.23

Current

A

3.7/7.5

4.7/7.5

7.4/12.5

Exterior dimensions (H×W×D)

Indoor unit

mm

262 x 769 x 230

Outdoor unit

mm

540 x 645(+57) x 275

540 x 645(+57) x 275

595 x 780(+62) x 290

Net weight

Indoor unit

kg

7

7

7.5

Outdoor unit

kg

25

27

39.5

Air flow

Indoor unit

m3/min

10.1/7.3/4.2

9.5/6.8/4.2

10.1/7.2/3.8

Outdoor unit

m3/min

26

25.4

35

Refrigerant

R410A

Refrigerant piping size

Liquid line

mm

ᶲ 6.35 (1/4")

ᶲ 6.35 (1/4")

Gas line

mm

ᶲ 9.52 (3/8")

ᶲ 12.7 (1/2")

Connecting wiring

1.5mm2 x 4 cores (including earth cable)

Connecting method

Terminal block (Screw fixing type)